Meet Tab and Robin Westbrook
Hi, I am Tab Westbrook and thank you for taking the time to learn more about me and my family.
I am a 25-year retired active Army and Alabama Guardsmen.  I joined the Army at the young age of 17. My parents had to sign for me to go in.  I started my career as a 12B10 Combat Engineer at Ft. Leonardwood, MO in 1977.  I spent a year at Ft. Campbell, the home of "The Screaming Eagle" 101st Airborne.  I made several stops along the way including Germany, Ft. Knox, KY, and Ft. Bliss, TX before getting out in 1983.  I did 1 year as a reservist in Alabama before getting out again.
I stayed out for 20 years and realized I not just WANTED to go back in but I HAD to.  The attack on the Twin Towers just reinforced how much I love my country and was willing to fight for it.
I rejoined in 2004 and 9 months later was serving as a 74D30 CBRN-E (chemical warfare) on the Pakistan border in the Paktika Province of Afghanistan.  I finished the deployment and came home to North Georgia and continued to serve.  I redeployed again in 2004-2005 to Kuwait (Camp Beuhring) and ran security at the Kabahri Crossing overseeing the search of vehicles coming into Kuwait.
Upon my return, I transitioned into the 200th Training Regiment of the Alabama National Guard where I taught Heavy Equipment operations and assisted in the training of young cadets in the OCS (Officer Candidate School)  I retired in 2019 to come home and take care of my family which included my father who lived with us.  My father (Pop) served in WW2 and was stationed in Italy.
Robin, my wife of 41 years is a true soldier's wife.  She loves the military and takes a big part in supporting soldiers. On our first deployment, she was heavily involved in the FRG (Family Readiness Group).
Our son Randy is currently 12 years in the Army and is stationed in Korea.  He has completed one deployment to Iraq.
Our daughter Savannah served as a medic and did her basic enlistment and how is serving as a Mom.  Savannah's husband Derek is currently serving in the Georgia National Guard as an infantry soldier and has done one deployment to Afghanistan.
I currently serve as a deacon in our church and lead the singing.  Yes! Some soldiers can sing LOL. Probably from doing all the cadence while marching.
I now choose to serve the supporters of our military and our great country by providing the highest quality American-made flags available.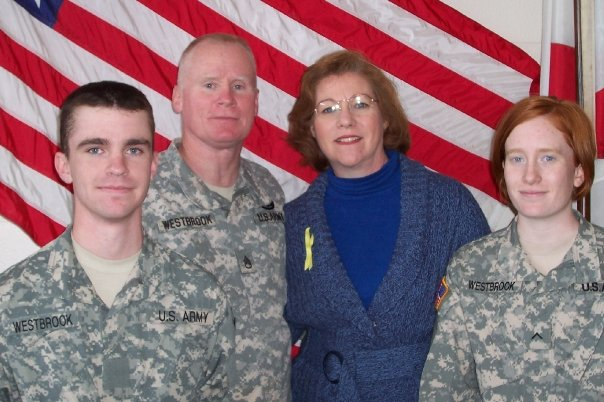 Tab & Robin Westbrook