Wood Memorial Cases are perfect to display interment flags or military memorabilia. veteransflagdepot.com offers beautiful solid wood memorial flag cases in oak or cherry finish.
These cases have glass fronts and include wall mounting hardware for multiple display options. Made in the U.S.A from American hardwood and finely crafted, our flag display cases are of the finest quality and the perfect way to show commemoration of a fallen patriot. Wall mount hardware included.
Sort by
Price filter
Filter by price
Please Allow 3-5 Days For Shipment. Government Specified 5'x9′.6″ 3.5″ Embroidered Stars Veteran Burial Flag folded in case. Made In U.S.A..
Please Allow 3-5 Days For Shipment. Outside Dimensions 26″x13″x3.5″. Beautiful mahogany colored hardwood flag case. These cases have thick glass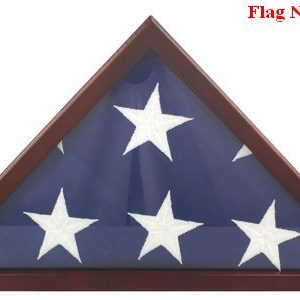 25″ X 12.9″ Commemorate a fallen patriot with our finest quality Memorial Cases. Choose solid oak wood case beautifully crafted in